The Hip Hip Hooray! Pedometer Challenge is an event where participants wear pedometers and track their steps for five days. Clinics compete to raise the most money and walk the most steps.
Previous Hip Hip Hooray! events took place this spring and last fall with surgeons, healthcare teams, orthopaedic patients and their families getting involved.
Pedometer Challenge – Spring, 2017
Canadian Arthroplasty Society (CAS) & Canadian Orthopaedic Trauma Society (COTS)
COTS and CAS participated in the spring of 2017. Together they raised over $9,000.00 and walked a combined total of 725,954 steps!
Saskatoon Celebrated a Successful 2016 Event
On Saturday, October 1, orthopaedic surgeons, grateful patients and their families from across Saskatchewan met at The Bentley Saskatoon Retirement Residence to help raise funds for the Canadian Orthopaedic Foundation through their annual Hip Hip Hooray! Fun Walk.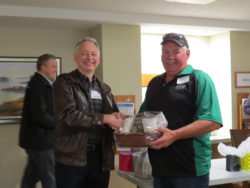 Despite the cooler weather, attendance was high and the event raised almost $20,000 in support of bone and joint health. Congratulations are extended to Dr. Jeffrey McKerrell, who with the help of his wonderful patients was this year's top surgeon fundraiser, and also to Foster Finell and Janice Attfield, this year's top patient fundraisers. We would also like to give special recognition to EJ & crew and Hip to be Square for their amazing team participation.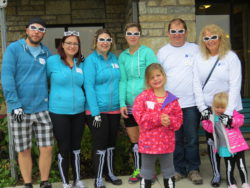 Funds from this year's event will be gratefully used to support the COF's national programs as well as to support Saskatoon's Orthopaedic Division's ongoing participation in a national orthopaedic trauma research project.
Thank you to the Saskatoon companies that supported the event with prize donations – Starbucks Circle & 8th Indigo, Sobey's Preston Crossing, Circle Centre Mall and Boston Pizza Nelson Road. And a special thank you to The Bentley Saskatoon for being such gracious hosts and providing an outstanding location for the Walk to take place.
The COF also extends heartfelt congratulations and thanks to all the volunteers, surgeons, patients and their families who contributed to the success of this year's event. Our collective efforts advance the COF's mission to improve bone and joint health in communities across the nation.
Step Counters Raised $33,740 in Fall 2016 Pedometer Challenge
Across the country, people tracked their steps for five days, October 17 – 21 in the COF's Hip Hip Hooray! pedometer challenge.
Five surgeon teams participated, from Calgary to Halifax. Winning teams are:
Most steps walked: Team MacOrtho Research – 910,203 steps
Most money raised: Dr. James Waddell's team, No Bones About It – $14,720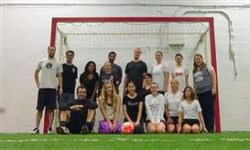 Funds raised support the COF national research, education and care programs, as well as local initiatives of the participating surgeon teams, such as Dr. Ivan Wong's research on arthroscopic repair of chronic rotator cuff tears, and new education resources for MSK patients at Holland Orthopaedic Centre.
In addition, several individual patients and friends did their own step counts for the week, raising funds for their efforts from their families and friends. Top individual fundraiser was Marian Fulmore, who raised a total of $585.
Congratulations and thanks to all walkers on demonstrating the value of mobility, and raising funds to enhance the bone and joint health of Canadians.