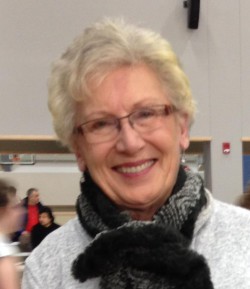 If you read our fall appeal letter, you may already "know" June Panteluk. Her quote about her orthopaedic surgeon ("he gave me my life back") featured prominently throughout the fall in our letters, emails, and social media portals. OrthoLink had a chance to get to know June a bit better when we spoke to her in early December.
June's orthopaedic journey began at a fairly young age when she was diagnosed with osteoarthritis. A former university administrator, June recalls her retirement party, where, at the age of 56, she was already using a cane. Colleagues joked with her about retirement and canes, but it was no joke to June, whose life, she recalls, was full of pain. "I was swallowing [pain killers] like candy," she says.
June was referred to orthopaedic surgeon Dr. Greg O'Connor and learned that she needed hip replacement surgery. At the time, there was a waiting list. After months of pain and desperate to do something to alleviate the feeling of helplessness June recalls making a plan. "Every Monday morning at 8:30 I called Dr. O'Connor's office and asked, "Is there any chance I've been scheduled for surgery? And every Monday morning, I heard the same response; not yet. Finally, it was the 9th Monday morning phone call where I learned that yes, my surgery was scheduled."
In November 1996 June had her first hip replacement, and her life turned around. By February she was with her family sailing on her brother's boat. Although she needed help to get aboard, it was a tremendous achievement to be able to go, as it was something she felt she would not have done before surgery. June's second hip was replaced in April 1997 and a proud June attended her niece's out-of-town wedding in July.
June credits physiotherapy with her quick return to pain free movement.  "Dr. O'Connor was insistent that I do the physio," she says. Three days a week she went to the therapy pool and exercise room at the Royal Alexandra Hospital and forced herself to do the exercises.
A poignant moment for June occurred when she was on a trip with her husband, Walter. The two climbed up a trail to the top of a dormant volcano in the Greek Isles. June proudly had her photo taken, and told Walter, "This is why I had my hips done."
Now, June plays golf, works out at the gym three days a week, walks most every day, and travels as often as she can. She is thankful for her mobility, and for her surgeon, who she says always greets her with a big smile and cares about his patients. "He gave me my life back," June says simply. She also credits the hospital team who provided a constant source of encouragement during her surgery and recovery.
June has been a long-time supporter of the Canadian Orthopaedic Foundation, demonstrating her belief in the value of orthopaedic care with regular contributions.