By: Carole U.
Orthopaedic Patient and Ortho Connect Volunteer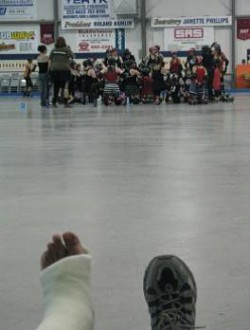 In late May 2010, I broke my tibia (shinbone) and fibula (calfbone) during a roller derby practice. As we were located in rural Manitoba I was rushed to the nearest hospital. Upon arrival, I requested to not be medicated or fed so that if surgery was required I could be scheduled immediately. Unfortunately, they did not have facilities to set the bones or provide treatment. As a result, I was on standby to be transferred to a larger hospital as soon as a bed became available.
The hospital staff was great and helpful and it only took one day until I was sent to a hospital in the city via ambulance for surgery. It was a stressful and emotional time. As I was being wheeled into the operating room the surgeon expressed concern about the outcomes. I responded by saying, "Once you are done with me you will have done such a terrific job that I will send you tickets to the next roller derby bout I ref!"
When I returned home, the pain following the surgery was severe and the swelling was immense.
When I returned to the surgeon's clinic to have the cast removed and recast there were concerns regarding the healing process and, over the months during my follow-up appointments, I experienced an array of unexpected and painful complications, including a severe infection. These complications required a second surgery, from which the results were very successful.
My message for those Canadians that experience trauma and a difficult recovery from an injury similar to mine is to speak with someone who has been through a similar experience. I wish I had a better understanding and someone to lean on during my surgical journey – it would have made me feel more at ease with the process and helped me to cope.
This is why I volunteer for the Canadian Orthopaedic Foundation, so others understand what to expect and how to prepare for surgery and recovery.
Today I am healthy and active and still participate in a variety of sports, including roller sports. For all of you facing surgery, be strong, learn everything you can from accurate sources about your condition, you will get better!